Protect, manage and monitor your PC, Mac, smartphone or tablet with McAfee LiveSafe™ cross-device protection.

Quickly lock down your lost or stolen PC remotely with innovative security features from Intel®.

Keep your data safe from hackers and thieves with
McAfee Personal Locker
, an ultra-secure online safety deposit box for sensitive documents

Simply store all of your passwords in one place and access them with just one password on any of your devices, with
McAfee SafeKey
.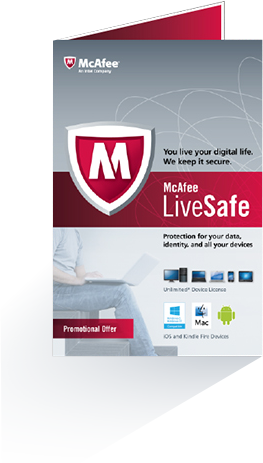 McAfee LiveSafe™ can protect all your devices, manage all of your passwords, safely store your sensitive documents and shield you from virus threats. Get McAfee LiveSafe service together with Intel's built-in security technology and protect your digital life.
More than Antivirus Protection
Unlimited* Comprehensive Cross-Device protection
Intel® Identity Protection Technology
Hardware Enhanced Anti-Theft


30-Day Money-Back Guarantee
Free Support
McAfee SECURE™ Site

One subscription protects
all of your devices.