Dell Recommended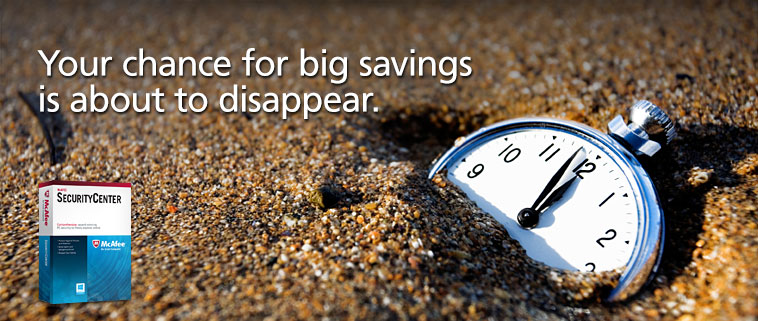 There's still time to grab this opportunity
to save 50% when you renew your PC
protection with McAfee
®
SecurityCenter.
Awarded silver for high blocking rate of phishing websites*
Automatic and constant updates so you always have the latest protection against threats
Exclusive McAfee Active Protection
™
technology finds and blocks new threats (over 4,200 discovered
every hour**) in less than a second

EXCLUSIVE ONLINE OFFERS EXPIRE MARCH 26, 2013.
Renew now
.


Risk-Free Renewal: 30-day, 100% refund policy – you can cancel your subscription online without having to hunt for receipts or drive to the store.

McAfee SecurityCenter: More Protection Facts

See and control your PC's protection quickly and
easily from your Home Screen – just click on the
McAfee icon to launch
Shred files that are no longer needed to make sure
your confidential information stays private
Faster scans and updates keep your PC running
at full speed
Award winning Anti-Virus, firewall, spyware and
online protection
Our team of professionals works around the clock
to protect you and your PC

McAfee Award-Winning Protection

"With the 2013 product line, McAfee has raised the bar with
new features and improved protection against phishing sites."
PCMag.com, December 2012

"I like McAfee's redesigned interface, low
performance impact and relatively quick scan times."
NoteBookReview.com, December 2012


*Against top AV companies, based on AV-Comparatives.org malware detection results (November 2012)
**Source: McAfee Labs,™ November 2012
This software does not guarantee protection against all possible threats. Product featured is a subscription download only and will not be shipped in a box. Offers expire March 26, 2013.
Please note: Some users may be required to reinstall after purchase to take advantage of new product features.
If you have a question or concern about your McAfee subscription, please go here. Note: You will be required to log in.
To confirm your automatic renewal status, go here. Note: You will be required to log in.
McAfee, McAfee Active Protection, McAfee Labs, VirusScan Plus and SiteAdvisor are registered trademarks or trademarks of McAfee, Inc. and/or its affiliates in the US and/or other countries. All other registered and unregistered trademarks herein are the sole property of their respective owners.
2821 Mission College Boulevard, Santa Clara, CA 95054, (866) 622-3911
© 2013 McAfee, Inc. All Rights Reserved.